The Barcelona Sessions IV
Deal With It TV - Kevin Yee profile
Purple Swag
oh my Aragon
Home Movies: The Powerhouse movie
Michael Garlinghouse - March in the park
Blading.info: Adam Johnson interview
Demetrios George - USD/NYC
Haitian Mag promo
Titanic Super 3D
Woodwitch part deux
Dominic Wagner: Brooklyn, NY
SISILOCO zaprasza na Never Winter Jam 2012
Jeff Dalnas 2012 USD Carbon 2 promo
BladerGang - Worldwide
Kacper Zaborowski quick edit
Never Winter Jam 2012 - wyniki
Masters:
1.Szczurek
2.Yogurt
3.
Gufi
& Madej
4.
Antena
& Tomo
Senior:
1.Dave
2.Gabriel Rozwadowski
3.Tomek Lewandowski
4.Szczawik
Junior:
1 Adam Bilicki
2.Kamil Gruba
3.Mikolaj Wiercioch
4.Piotr Rzonca
Best trick:
Gufi
& Yogurt
Gratulacje!!
Mateusz Kowalski USD Carbon 3 test
Jeff Dalnas 2012 USD Carbon 2 promo
Blading.info: Billy O'Neill interview
SSM: Since Now
Suchary #2
Bardzo przepraszam za opoznienie ale 0 zrycia dopiero gdy spotkalem sie z chlopakami na Never Winter Jam udalo nam sie wspolnymi silami ogarnac takie dowcipy:
Jak nazywa sie martwy biseksualista?
Bidet
Jak nazywa sie syn Jana z Egiptu mieszajacego nad rzeka?
Nils Jansons
Przychodzi Radzik do kibla, a tam sraczka.
Jak nazywa sie ulubiona marka ubraniowa dziewczyny Radzika?
Louis Witooom
Bartek Kasprzycki a.k.a. Riviera
ogien!
Shredweiser: Children of The Grave
Eulogy E2 - Kyler Martz artist pro series
Inmag: Never Winter Jam 2012 - Ewolucja?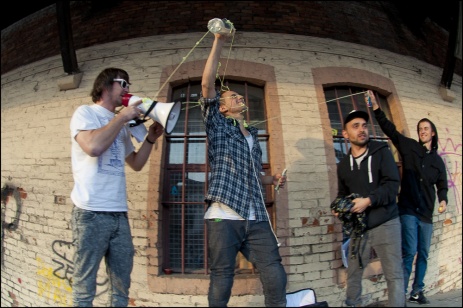 Ucon Silhouette 2012 line
Bartek Górczyk - box edit (2008)
Best day ever by Minimal Motions
!!
Blading.info: Tour life - Jeremy Stephenson (part 1)
BladeNews.pl: 44U #1 #2 - Mateusz Radziszewski & Eryk Muszyński
<< Poprzednie